Md. Nayem Hasan Munna
BS (4th year) in Soil and Environmental Sciences,
University of Barishal, Bangladesh
Website: www.nayemhasanmunna.com
Email: nayemhasansesbu@gmail.com
LinkedIn: https://www.linkedin.com/in/nayemhasan37/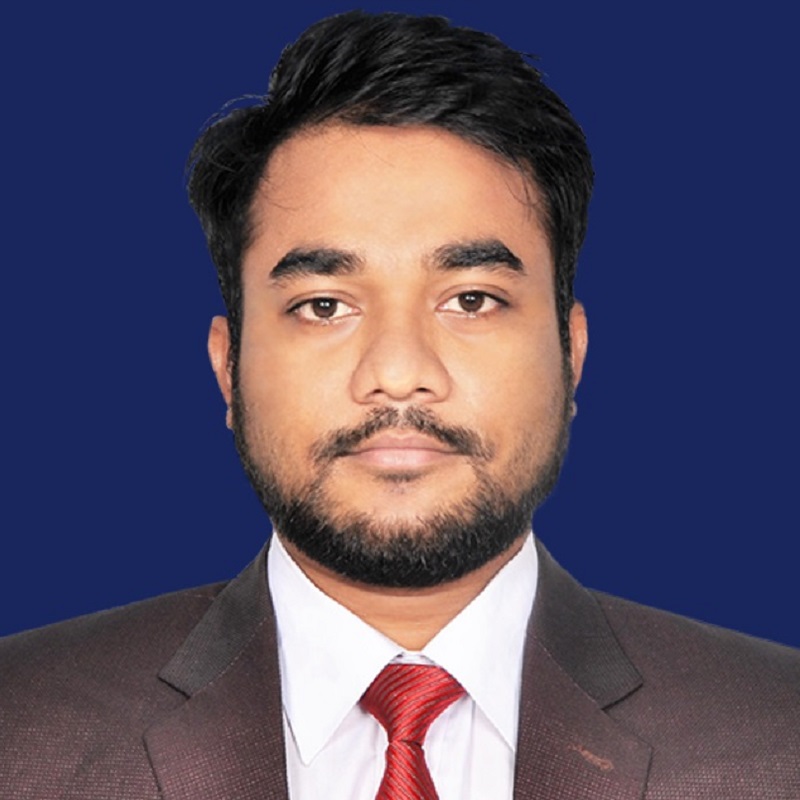 🔳CARRIER VISION
I have a strong belief in myself that I can do hard work and face all the challenges with my honesty, wisdom, integrity, and reliance on The Almighty. I like to learn and use my special ideas, strategies, and innovative planning for getting success in any sector of my life. Those who would like to get the service of my brain may have a look into the following particulars of me.
🔳FIELD OF SPECIALIZATION
My research interests focus on Soil and Environmental Management, Soil Fertility, Problematic Soil (Peat Soil and Saline Soil), Soil Organic Matter, Water Quality, Wastewater Management, Environmental Toxicity, Air Pollution, Disaster Management, RiverBank Erosion, etc.
🔳EDUCATION
I'm in my 4th year 2nd Semester of studies towards a bachelor's in Soil and Environmental Sciences, University of Barishal, Bangladesh. I am a Soil and Environmental Steward. I am also a Young Scientific Researcher.
🔳LANGUAGE PROFICIENCY
Bengali: Mother's tongue
English: Excellent proficiency in speaking, writing, and reading
Arabic: Proficiency in reading is good, writing is fair
🔳RESEARCH EXPERIENCE
I am playing a role as a team leader of the Research Group of the University of Barishal to coordinate everything of the research projects. The director of the projects is Dr. Hafiz Ashraful Haque, Assistant Professor and Chairman of Coastal Studies and Disaster Management. I am leading the team to collect data and samples for our research projects with professionalism. I am playing an important role to analyze the data and samples by using Statistical Softwares such as SPSS and GraphPad. I am also working in the Laboratory to analyze the different kinds of samples for our research projects.
ResearchGate: https://www.researchgate.net/profile/Md_Nayem_Hasan_Munna
The two Scientific Projects that are conducted by us:
Socio-economic Impact of Riverbank Eroded Family in Barishal, Bangladesh. ?
Water quality deterioration ascribed to direct waste disposal from passenger vessels/waterways in Kirtonkhola River, Barishal, Bangladesh.
The Projects are funded by University Grants Commission Bangladesh.
🔳Other Research Projects:
🔗 Environmental Impact Assessment on the Lebukhali Bridge Construction Project, Patuakhali, Bangladesh 🔘
🔗 Biochar Application in Management of Rabi Crop Production in Bangladesh 🔘
🔗 Investigation of soil and water salinity and its effect on crop production and adaptation strategy in Bangladesh 🔘
🔗 Investigation of Fertilizer Dose-Response Relationship in Sesame Cultivation in Bangladesh Soil 🔘
🔳WORKSHOP ON LIFE SCIENCE RESEARCH AND PUBLICATIONS
I have attended different workshops and seminars that were conducted by renowned organizations. I have received training in writing a research proposal, conducting scientific research, data analysis by using different computer software. They provide me with different kinds of useful software that are pretty much helpful to complete Scientific Research smoothly. The details of some workshops are enlisted below that have an outstanding role to make me a Professional Scientific Researcher:
Workshop on Life Science Research & Publication for Beginners on February 2-3, 2018 at GREC Head Quarter, Lalmatia, Dhaka, Bangladesh?
Workshop on Qualitative Methods in Contemporary Social Research on November 22, 2017, at the University of Barishal, Bangladesh
Workshop on Writing Research Proposal, on February 18, 2017, at South Asian Youth Research Initiatives for Development-SAYRID
Workshop on "Research Methodology: Conceptual Foundation", on October 25, 2018, at the Organization for Social Orientation (Young Researchers Fund 2019)
🔳TRAINING (Soft Skills)
GIS (Geographic Information System) and Remote Sensing Training | The name of the instructor is Ian Allan (24 yrs GIS Educator & Consultant: 3 Courses, 5000+ Students!)
ICT Training | Learning and Earning Development (LEPD) project, ICT division, Bangladesh | The trainee on Digital Marketing and Article Writing, ID: 90653 · March 17, 2017, to May 18, 2017
Training at Bd Young Starz | Trainee, "Stand out from the crowd" | September 24, 2016
🔳NATIONAL/ INTERNATIONAL WORKSHOPS AND CONFERENCES
2nd International Congress on Earth Sciences 2019, from 18th November to 20th November 2019 at Nusa Dua Beach Hotel & Spa, Bali, Nusa Dua Bali, Indonesia.
Asia World Model United Nations II 2019 from 30th January to 2nd February 2019 at Prince Palace Hotel, Bangkok, Thailand | The AWMUN platform is really helpful to enhance capabilities and encourage young leaders to develop networks and improve their communication skills and diplomatic skills. That was a colossal experience in my life. The theme of the AWMUN conference was "The World's Dilemma: Enhancing World Action on Climate Change."
Asia World Model United Nations III 2019 from 13th November to 16th November 2019 at Bali Nusa Dua Convention Center, Bali, Indonesia.
International Conference on Disaster Risk Management on January 12-14, 2019 at Pan Pacific Sonargaon, Dhaka and 8th Floor, West Wing, ECE Building, West Palashi Campus, BUET
International Workshop on Communication Skills on 14th September 2018 at South East University
Workshop on Wikipedia-2016 on 30th January at University of Barishal
🔳ASSOCIATE/ GENERAL/ VOLUNTARY MEMBER OF ORGANIZATIONS
President of "Bangladesh Soil Club, BU Chapter"
E-Club – Entrepreneurs Club Of Bangladesh Ltd., October 12, 2018, to Present
Rotaract club of Barishal University, October 15, 2018, to Present
Volunteer at Soil Resource Development Institute – SRDI, Barishal, Bangladesh, October 6, 2018, to Present
Barishal University Soil and Environmental Club, July 20, 2018, to Present
Barishal University Nature Study Club | March 1, 2016, to Present
Class Representative (CR), Soil and Environmental Sciences, Session:2014-15, the University of Barishal from 2nd September 2016 to 10th August 2017 | That was really great experience in my entire life. I have gathered much knowledge by maintaining my responsibilities as a Class Representative.
🔳FOUNDER OF ORGANIZATION
Earth Review (www.earthreview.org), 2017-PRESENT: "Earth Review" is an educational website. The vision of our website is to explore the natural resources of the earth by writing and sharing articles related to Soil Science, Environmental Science, Hydrology, Coastal Studies, and Disaster Management.
🔳AWARDS/CERTIFICATIONS
Awarded a laptop as a successful freelancer from ICT division, Bangladesh on 16th January 2019.
1st Position in a Quiz Competition (Environmental Science) that was arranged by Barisal University Soil and Environmental Club on 28th November 2018.
YouthFest, Barishal Division -2016 | New Idea Category, (How To Make Our Environment More Sustainable) |09th April 2016
1st Position, Competition on Writing Water Story, 22nd March 2016, International Water Day-2016, Organized by www.environmentmove.com and Shopexx.com
🔳ARTICLE WRITER

I have written articles on EnvironmentMove as a Green Teller. And, I also publish my own articles on our website, www.earthreview.org.
🔳ADMINISTRATIVE ROLE

Barishal University Nature Study Club | March 1, 2016, to March 1, 2017
🔳SPONSORSHIPS
Poster Presentation on World Soil Day 2018
Article writing competition on World Soil Day 2018
Article writing competition on World Soil Day 2017
World Soil Day 2017 |Sponsorship of the leaflets on behalf of earthreview.org (World Soil Day 2017, University of Barishal) | December 5, 2017
🔳REFERENCES
Dr. Md. Hasinur Rahman
Associate Professor of Chairman of Soil and Environmental Sciences
University of Barishal, Bangladesh
Dr. Hafiz Ashraful Haque
Chairman and Assistant Professor of Coastal Studies and Disaster Management
University of Barishal, Bangladesh
Md. Jamal Uddin
Assistant Professor, Dept. of Soil and Environmental Sciences,
University of Barishal, Bangladesh
Ferdouse Zaman Tanu
Lecturer, Dept. of Soil and Environmental Sciences,
University of Barishal, Bangladesh
& Post-graduate Student, Dept. of International Agricultural Development, Tokyo University of Agriculture, Japan

Kind Regards,
Md. Nayem Hasan Munna
Soil and Environmental Sciences,
The University of Barishal,
Barishal, Bangladesh.
Email: nayemhasansesbu@gmail.com
Website: www.earthreview.org
Portfolio: www.nayemhasanmunna.com
ResearchGate: https://www.researchgate.net/profile/Md_Nayem_Hasan_Munna
#Alhamdulillah